SKILLS & DRILLS – Monday, February 13, 2023 >>9:00 – 11:00 am
$5.00
Registration opens 8:00 pm, Monday, February 6, 2023.
SOLD OUT means there are no available spots till the registration opens.  Be sure to refresh your browser when the site opens at 8 pm.  
Skills & Drills main objective is to assist pickleball players to enhance the skills they have already learned.  Skills & Drills pre-requisite is that of an Experienced Beginner and beyond – a player who has learned how to play pickleball and wishes to improve on aspects of the game.  No refunds with 48 hours of the event date.  No refunds for no-shows the day of the event.
Please note:  This is not a venue where pickleball lessons are taught during this session.
Please contact sarasotapickleballclub@gmail.com if you are seeking pickleball lessons and would love to learn this great sport!
Sold Out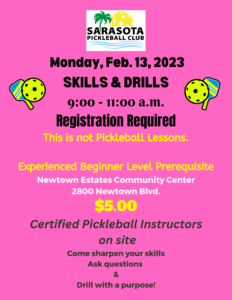 Event Details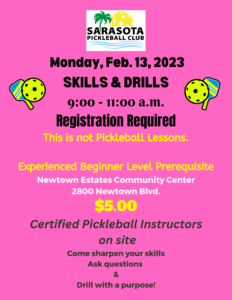 Date: February 13, 2023
Start time: 09:00 a.m.
End time: 11:00 a.m.
Venue: Sarasota Pickleball Club Skills & Drills
Coordinates: 2800 Newtown Blvd., Sarasota, Fl 34234
Directions: Newtown Estates Community Center
Email: sarasotapickleballclub@gmail.com