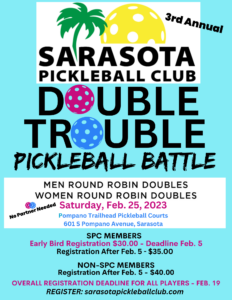 The Sarasota Pickleball Club is proud to host the
3rd Annual
Double Trouble Pickleball Battle
Saturday, February 25, 2023
This is a Round Robin event with Gals playing off against Gals and Guys playing off against Guys.  All by skill level! 
If you have participated the last two years, you know what a fun time this is for everyone.  If you were a participant in our January Celebration Tournament, the format is the same but we can almost guarantee it won't be as cold as it was on January 14th!
Early Bird Registration SPC Members Only
$30.00 before February 5, 2023.
After February 5 …
the registration opens up to SPC Members and Non-SPC Members. 
SPC Members –       $35.00
Non-SPC Members – $40.00 
NO REFUND OF REGISTRATION FEE AFTER FEBRUARY 19, 2023.  
We look forward to having you join us!  Don't miss out.
Register early! Spaces are limited. 
 Come Join the Fun!