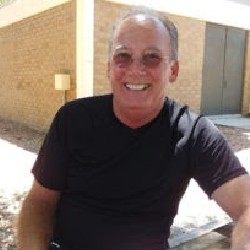 I became addicted to Pickleball about seven years ago and have watched it grow every year with more growth to come. I became involved with the Sarasota Pickleball Club from its inception in order to provide dedicated courts to the pickleball community in the northern part of the County. Most of my play is at Arlington Park and the Church of the Palms where I also lend guidance and coaching to the beginners who play there.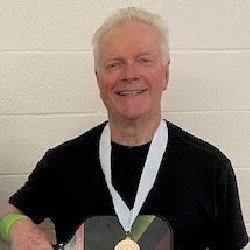 Russell Young - Vice President
My wife (Ruth) and I were blessed to learn there was a sport called Pickleball in 2015 while on a cruise. Prior to that we had never heard of the game. When returning to Sarasota, my wife did some internet research and found that it was growing popular in our area. Within a few weeks we were hooked. Sports had always been a big part of my life but this was the first time in a decade or so that I found a form of exercise that I was really excited to participate in. I continued to work long hours as a Workers' Compensation Attorney until July of 2019 but still made time to play 2-3 days per week. I am now semi-retired and work as a part-time Mediator. My wife swears the real reason for the change in my work status was so I could play more Pickleball and she may be right. I was elected Vice President in March of 2020 and look forward to serving our community by helping to establish this club and promoting the sport we all love.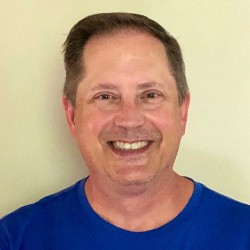 Darrel Jordan - Treasurer
After retiring as a physician, my wife and I moved to Siesta Key in 2017. We are definitely enjoying this new and relaxing phase of our lives. I became interested in pickleball in 2018, when the Church of the Palms began indoor pickleball play for the community. At present, I oversee the pickleball operations at the Church of the Palms. The Sarasota Pickleball Club offers an opportunity for all level of players in Sarasota to further develop their skills and make new friendships These are reasons that lead me to become part of the Sarasota Pickleball Club.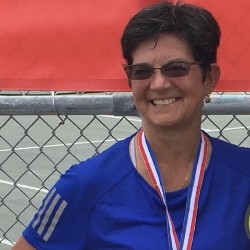 I saw my first Pickleball match while vacationing on Siesta Key 5 years ago. Upon returning to Kentucky my spouse and I were fortunate to join some former tennis players to learn this new sport. For the next few years we continued to vacation in Sarasota and play Pickleball with some of the nicest people we have ever known. Now we are no longer snowbirds, we are Florida residents and our Pickleball friends truly made our move so much easier! I am so pleased to be a member of the board as we share our message. If you are a beginner, intermediate or advanced player we would love to have you join our organization. Together we will improve our skills and agility, and as an added bonus we will continue to make new friendships. Lastly, a message to Sarasota regarding places to play Pickleball: "If you build them, they will come!"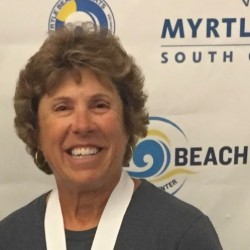 Carrie Palmer - Director - Membership Committee
I think my pickleball story pretty much mirrors the majority of other players. Introduced to this addictive sport one afternoon by 3 good friends and 2 minutes into my introduction, I was hooked! As a native Sarasotan, my career was here, my heart is here and you always want the best for your hometown. Therefore, I have spent the last 3 years contributing my time to helping a very small group work towards acquiring dedicated courts in the northern part of our county. We are proud to say that 6 courts will be available in 2021 and 12 more are in the budget for 2021/2022. Next, we have turned our attention to growing The new "Sarasota Pickleball Club" and all of the additional opportunities and fun that will bring us.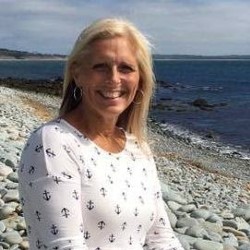 Cathy Denault - Director - Communications
After many years in retail human relations management, it is so refreshing to be involved in the fantastic sport of pickleball. I have always been active in physical activity and for 20+ years, taught aerobic fitness and dance as my avenue for release from a very hectic career. When I was introduced to this pickleball game, I was quickly addicted, not only to the game itself, but to the community of people that I have met and associated with from all parts of the world just from playing pickleball! From day one of introduction, I have been an avid player, participant and volunteer in many pickleball activities, tournaments, Seniors Games and served as a Board Director on two major pickleball associations. As a certified International Pickleball Teaching Pickleball Association (IPTPA) instructor, and a court dealer for several major pickleball companies, I am honored to have had the opportunity to teach so many people this great sport. A formal organized pickleball club in Sarasota has always been a passion of mine. Now, after the Sarasota Pickleball Club (SPC) lobbied for two or more years to have dedicated outdoor pickleball courts in Sarasota, I am proud to say, as a SPC Board member, this goal was achieved. The SPC is now even more committed to further promoting and growing pickleball in the Sarasota area through planned events and activities. I look forward to working on the SPC Board to do just that and seeing all of you do the same! See you on the courts!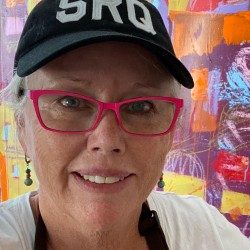 Judy Robertson - Director at Large
"I'm excited to help in developing the Sarasota Pickleball Club here in Sarasota." Recently retired, Judy now has time to focus on her pickleball game and help others improve their game. Judy has a wide variety of sports in her background and has competed at a state and national in tennis, softball and now pickleball. She and Bruce moved to Sarasota 20 years ago and they both enjoy the game and meeting new people. Pickleball is the perfect sport for that.