Sarasota and Area Pickleball - Outdoor
Sarasota Outdoor Pickleball
The SPC was formed in 2016 for the sole purpose at that time of lobbying City and County government bodies to provide outdoor dedicated pickleball courts to the playing community in the northern part of Sarasota County. This committee met with County Commissioners, Parks and Recreation personnel, made multiple presentations to advisory groups to both the City and the County and in general made pests of ourselves. However, the effort paid off. 
We are happy to announce that both of these locations are now completed and open pickleball play has commenced.
LONGWOOD PARK COURTS (8)
 6050 Longwood Run Blvd. 


---
POMPANO TRAILHEAD PICKLEBALL COURTS (12 lighted)
601 S. Pompano Ave.
Open Play Pickleball every day till 10 pm!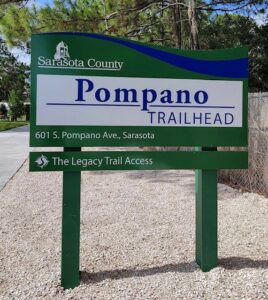 ---
Pompano & Longwood Courts
 Paddle System
Many pickleball folks have asked about the Paddle System installed at both of these new locations. The SPC worked with Sarasota County to develop this paddle box.
How does it work?
Here's an explanation about the paddle box as well as court protocol and respect.
Paddle System
Just a reminder that there are two paddle boxes, one for each group of six courts, at Pompano, and one paddle box at Longwood Run.   
When all the courts are occupied, these boxes will dictate which four players are up next as a court becomes empty.  You will need to put your paddles in the slots of the paddle box to ensure you get into the rotation to go on the court to play.
When all the courts ar

e occupied

, you will need to finish your game, come off the court, and put your paddles in the paddle box to fit into the rotation as players come on and off the court.  Those who have their paddles under the slider bar "Up Next" will be the next four players to go on to the empty court.  
If the courts are not all full, you can play at your leisure with your own group and stay on that court as long as you wish.  First come, first serve as to which courts people occupy.  
There is no obligation to join in with other groups unless you choose to, and you are not obligated to allow others to join your group unless you choose to include them. 
 
You now have the best of both worlds!
 
Please note that the court protocol is not to just walk on to the courts and put your paddle in front of the court you think you want to play on.  This may be a private group.  Or they may be paddles in the paddle box who would be considered the next up on the court if all the courts are in play.  
 
Please be respectful of other groups and their level of play. 
Please refrain from disrupting group play expecting them to allow you to join in with them.  It is their choice, as it is yours, whether you wish to invite others to join in with your group.  It is not mandatory.

There are several Sarasota County tennis court locations that have added lines for pickleball play. 
Please note that players may

need to supply their own nets when playing on some of these outdoor courts. Note the * below on each line.  
Outdoor Courts:
By-Pass Park/Foxworthy Campus (eight total, six dedicated and two shared)

Colonial Oaks Park (two*) – see below

Englewood Sports Complex (twelve)

Fruitville Park (four*)

Hecksher Park (two*)

Laurel Park (four*)

Longwood Park (one)

Newtown Estates Park (four*)

Nokomis Community Park (four*)

Pinebrook/Wellfield Park (two)

Siesta Beach (four*)

Twin Lakes Park (four*)

Woodmere Park (four*)

Youth Athletic Complex (one)
*Bring your own net
Check the Sarasota County link below for more information: 
_________________________________________________________________________________________________________________________
Other  Drop In Locations:
(Usual start time is by 8 am and can be up to 4 hours.)
Longboat Key – Bayfront Park
Venice – Foxworthy/By-Pass Park, 110 Gulf Coast Blvd.
Bradenton – G. T. Bray Park,  5502 – 33rd Ave., 941.742.5923
Englewood – Englewood Sports Complex, 1300 River Rd. 941.861.1980